Excerpt from the Woods/Greene collection of direct voice recordings with direct voice medium Leslie Flint
On a cold Saturday morning, 19 December 1959, George Woods and Betty Greene have lugged their heavy tape-recorder from Croydon to London to record a seance with voice-medium Leslie Flint. He possesses a rare gift. Voices manifest at a point in space and are not spoken by himself.
After a while the jolly boyish voice of his guide Mickey is being heard - first in a whisper but later loud and clear: Good morning!
After a while another hesitant voice is with a foreign accent manifests:
I do not know if it is really afternoon or morning...er... Time is always a most complicated thing for us to be certain about. When we come to your Earth conditions, we are always inclined to be puzzled about certain things....
Betty Greene:May we know your name?
Voice:My name is Chopin, Frédérique Chopin.
Chopin speaks in English. None of the participants understand French. A year before his death in 1849 he had visited England and Scotland.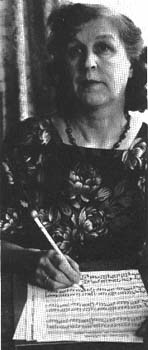 The late musical medium Rosemary Brown asserted to be in close contact with Chopin. He dictated new compositions to her. They have been recorded on a Philips long-playing record in the early seventies. This recording has been played for Rosemary Brown. She said to recognize the Slavonic-French accent. Mrs.Brown has also sat with Leslie Flint. Amongst the communicators, most composers, was Chopin. He spoke to her in direct voice in the same manner as when she was in telepathic contact with him at home.
A Dutch play has been produced by Jacq Palinckx entitled 'Mrs. Brown. Muziek uit het hiernamaals.' (Music from the hereafter) in 2007 .
---
About his passing over Chopin told George Woods and BettyGreene (abbreviated):
I only remember that I was very ill, lying on my bed. Some of my friends were with me and gradually everything seemed still. It was as if I was drifting away from everyting. And then I began to see an enormous light. At first it was a little tiny glimmer, then it became brighter and brighter...and I began to hear sounds. Music began to swell up and became louder and louder...it was as if there was a whole, whole orchestra. Magnificent!
I tried to hear, how you say, what this melody was. I could not recognise it. It was not music I was accustomed to. It was different; much more maginificent than anything I ever hear......

---