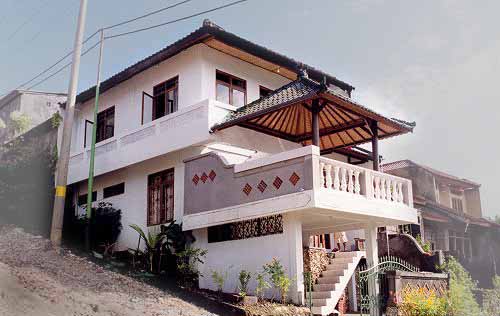 Our property is situated in Nusa Dua at the end of the jl. Teman Giri road, bloc 13, no. 308, at a distance of only 3 km from the sea, 16 km from the capital Denpasar and 12 km from the airport. It is centrally and very well located.
The house has a private car park, a roofed terrace, an airconditioned bedroom, a kitchen, a well equipped bathroom and a lounge. At the top floor there is a 6 by 9 m² (20' x 30') studio with a nice view on the surroundings. There is electricity (220 V), water supply and the use of butane gas.
Gede, a 17 year old student, is available each day from 8.00 am to 1.00 pm for cleaning and household tasks, including shopping and even cooking. He also possesses a motor bike which can be used for short trips in the local area. The local restaurants serve a variety of fine and healthy meals. They are generally clean and cheap: less than one Euro for a meal.
Guests may hire a car - with or without driver.
---
The rent for this bungalow is set at only 175 Euro for a week (minimum two weeks) or € 600 per month, including the use of electricity, water and gas, and the assistance of Gede.
---
Contact address:
Mark Wessels
Kelbergen 111
1104 LE Amsterdam - Netherlands

E-mail: wichm@xs4all.nl
---
Vakantie Sites