Links and literature on
CINEMATOGRAPHICA
---
>Or use the Ctr-F 'find/search' feature of your browser to search each page.
Search Anssi Puistot's list with more than 1100 super 8mm cameras
---
---

Links:

---
History:

---
Museums:

---
Auctions:
---
Clips of my cinematographica collection
YouTube clips of my cinematographica collection
---
Precinema/Magic Lanterns:

---
WIDESCREEN
---
Collecting/Filming in 9,5mm:

---
Filming in (super)8 or 16mm:

---
Collecting other gauges, besides the usual ones.
Supplies:

---
Other link pages:

---
South Manchuria (Edison?) 35mm projector lit by sunlight as street entertainment, turn of the century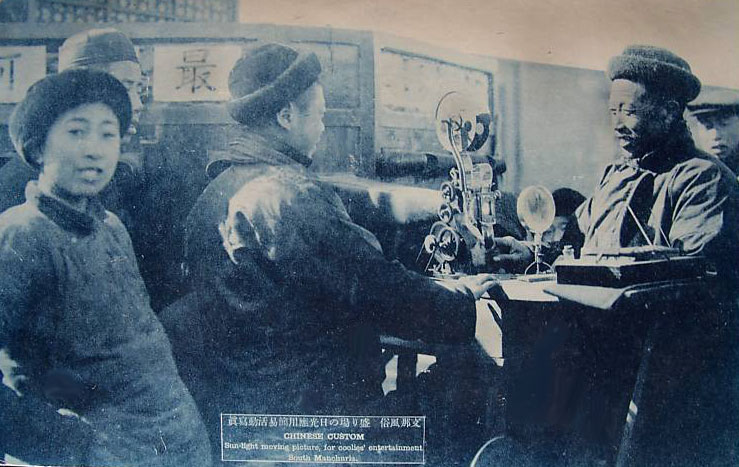 UK/Great Britain

---
Netherlands/Belgium (Benelux)
---

---
France, Canada

---
Germany/Deutschland/Austria/Õsterreich/Schweiz

---
Italian

---
Australia/New Zealand
(Any suggestions?)
Other countries
(Any suggestions?)
---

---
EQUIPMENT/FILMS FOR SALE (commercial)/HIRE:
---
Video (transfer, digitalisation)
(All addresses are given without responsibility)
---
Various
---

---
---
The following are some valuable reference-books (most out-of-print) often used by collectors (depending on their nationality!):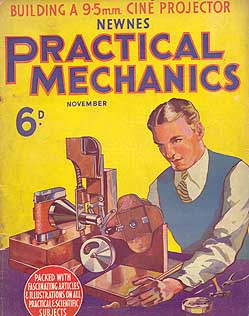 Ariel, Pete: Cinematographica Register (4 volumes, 1981-1990)(click)
Auer, M. & Ory, M: Histoire de la Caméra Ciné Amateur (French, many fine photographs 1979)
Auer, Michel: Collectors Guide to antigue cameras (1981)
Barnes, John: The Rise of the Cinema in Great Britain, two volumes (1983)
Barnes, John: The Beginnings of the Cinema in Great Britain, 5 volumes
Bennett, Colin N.: The Handbook of Kinematography (1911)
Cameron, James R: Motion picture Projection (various editions from 1918 until after WW2. Contains detailed descriptions of mainly American 16 and 35mm (cinema) projectors.
Ceram, C.W.: Archeology of the Cinema (1965, also German and French editions)
Coe, Brian: The History of Movie Photography (1981)
Ducom Jacques: Le Cinématographe (1911)
Fielding, Raymond: A technological history of Motion pictures (1983)
Gardiakos, Soterius: Pre 1900 American made [Movie] projectors (2010)
Gregory, C.L. : Motion Picture Photography (1920)
Hecht, Hermann & Ann: Pre-Cinema and History (1993)
Hendricks, Gordon: Origins of the American Film (Reprint 1972)
Herbert, S.: Industry, Liberty, and a Vision: Wordsworth Donisthorpe's Kinesigraph (2004)
Hopwood, Henry V.: Living Pictures (1899. Reprinted by Arno Press. It is now also available on CD, with 1915 update from 'The Projection Box' )
Hrabalek, E: Laterna Magica (German magic lantern price-guide 1985)
Hulfish, David S.: Motion Picture Work (1913)
Jenkins & Depue: Handbook for Motion Picture and Stereopticon Operators (1908)
Kattelle, Alan: Home Movies. An important book with a wealth of data on the history of the (American) (amateur) film industry (2000)
Liesegang, F. Paul : Handbuch der praktischen Kinematography (1908)
Liesegang, F.P.: Dates and Sources. A contribution to the history of the art of projection and to cinematography ( 1986)
Lobel, Léopold: La Technique Cinématographique (1912 - 1927)
Lossau, Jürgen: Filmkameras & Filmprojectors (listing 3000 16, 9,5, 8, single and super 8mm cameras) (German/English 2000/5):
Mannoni, Laurent: Le Mouvement continue (Catalogue: Cinematheque française, Musée du Cinema)(1996)
McKee, G.: The Home Cinema, Classic Home Movie Projectors 1922-1940 (1989, A third printing has become available in August 2000. Direct enquiries to Gerald McKee, 7 Lordslaine Close, Eastbourne, East Sussex, BN20 7UF, UK)
McKee, G. : A half century of film collecting (1993, still available. See address above)
McKeown, J.: Price-guide to Cameras
Oldtimer Cameras Ltd. 'Expert System': details of cine cameras and projectors on sale in the U.K. from 1956 to 1982 (3 volumes)
Pont, Patrice-Hervé: Catalogue des Cameras Francaises(1993)
Quigley, Martin, Jr.: Magic Shadows. The story of the origin of Motion Pictures(1960)
Richardson, F.H.: Motion Picture Handbook (The rival of Cameron, see above). Various editions beginning 1910 until the forties.
Ristow, Juergen: Vom Geisterbild zum Breitwandfilm. Aus der Geschichte der Filmtechnik (1986)
Rossell, Deac: Living Pictures. The origins of the movies (1998)
Sadoul, Georges: L'Invention du Cinéma 1832-1897 (1945)
Samuelson, David W.: Motion Picture Camera Data (modern prof. cameras 1979)
Schmidt, Hans : Kino-Taschenbuch (1926)
Toulet, Emmanuelle : Birth of the Motion Picture (1995, translated from the French)
Tuemmel, Herbert: Deutsche Laufbildprojektoren (German 1986)(All German projectors and their manufacturers)
Wade, John: The Collector's Guide to Cine Cameras (2000)
---
I have quite a number of second hand books on cinematography for sale.
Ask for list wichm@NOSPAMxs4all.nl after deleting NOSPAM from the address.

---
More books:
Abbott, Harold B. : Motion pictures with the Baby Ciné (1929?)
Abbott, Harold B: : The complete 9,5mm Cinematographer (1938)
Alden, Andrew: Bolex Bible (1998)
Bennett, Colin N.: A Guide to Kinematography Projection (1923)
Brown B.: Talking Pictures (1931)
Cricks, Howard R.: The complete projectionist (1937)
Dickson, W.K.J.: History of the Kinetograph, Kinetoscope and the Kineto-Phonograph (1895, reprinted)
Enz, Kurt: Filmprojektoren, Filmprojektion (1965)
Hepworth: Animated Photography (1900, reprinted 1970 by Arno Press)
Horstmann & Tousley: Motion Picture operation. Stage electrics and illusions (1914)
Jenkins, C.F.: Animated Pictures (1898, reprinted 1970 by Arno Press)
Jenkins & Depue: Handbook of Motion Pictures and Stereopticons (1908)
Jones, E.: Practical Guide to the taking and projecting of cinematographic pictures (1915)
Kermabon, Jacques: Pathé, premier empire du cinéma (1994)
Kuball Michael: Familien-Kino, die Geschichte des Amateurfilms in Deutschland 1900-1960 (1980)
Lutz, E.G.: The Motion Picture Cameraman (1927)
Macintosh, Douglas: A Handbook of 9,5mm Cinematography (2000)
Mariani, v. : Guida pratica della Cinematografia (1923)
Merle, André: Les Appareils de Prise de Vues Cinématographiques (1926)
Moigno, Abbé: l'Art des Projections (1872)
Musser, Charles: Thomas A. Edison and his Kinetographic Motion Pictures (1995)\
Neuhauss, Dr. R.: Lehrbuch der Projektion (1901)
Opfermann, H.C.: Die neue Schmalfilm-Schule (various editions from 1940 till the fifties)
Repinski, Cynthia A.: The Univex Story (1991)
Richardson, F.H.: 'Bluebook of Projection' (1942-1953?)
Sloane, O'Connor T.: Motion Picture Projection (1922)
The Modern Bioscope Operator (1917 4th ed.)

---
Newsgroups
(accessible thru search engines, such as Google, under 'groups' or a newsgroup program as Free Agent).
rec.arts.movies.production
rec.arts.movies.tech
rec.arts.movies.production
rec.photo.marketplace
alt.movies.cinematography
alt.movies.cinematography.super8
aus.films
no.film
fj.rec.movies
de.rec.film.misc
fidonet.film.028
es.rec.cine
maus.rec.kino
dk.kultur.film
alt.movies.cinematography
alt.movies.cinematography.super8
hk.rec.movies
pl.rec.film
alt.movies.silent
fido.ger.movie
fido.belg.film
Chat Forums:

---
Return to main Cinematographica page, or have a look at my collection

For responses email to: manandu@NOSPAMxs4all.nl but delete the word NOSPAM from the address (90% of my emails are spam and viruses!).
---
---
---


On the web since 1996. Latest revision: 2 March 2017. Please let me, Michael Rogge (manandu @ xs4all.nl) know of other interesting relevant links.
| Frequently Asked Questions|
| 115 Years of film sizes |
| Birt Acres. Film Pioneer |
| Main cinematographica page |
| Index to these pages |
| Images of my collection |
| List of 3000 vintage movie apparatus |
| Service addresses |
| want list |
| Who invented the cinema? |
| My 1100 video clips of the world in bygone days on YouTube |
| main index page |
| art |
| Do we have a soul? |