The American Urban Spirograph of 1915, apparently inspired by the popular gramophone, used a celluloid disc with 1200 frames. Each disc had a projection time of two minutes. A disc library with hundreds of titles was to be made available. It is doubtful whether it ever came that far, because nothing was heard more of the venture after some time.

Yet, undaunted, The Aladdin Cine Products Co. ('from the Pictures Development Co., Toledo, Ohio, USA') produced a similar experimental series of discs of local subjects, but fared a fate even worse than Spirograph.

All these curious attempts make a fine hunting field for the collector nowadays. A Kammatograph was auctioned by Christies for £ 3850 in 1993 and may be worth more now.
---
Other formats
Duplex half frame film
In 1915 the Duplex Corporation proposed an economical use of the 35mm film size, by dividing the frame in two halves and copying existing 35mm films on to one half of the 35mm stock without splitting the film up.

Special Duplex projector lenses were to be made available to project the 10 x 19mm half frame onto the screen.
I have a brochure but have been unable to find any reference that the system was seriously considered, or the Duplex lenses ever made available.

42mm sound film 1922
Another proposal came in 1922 for a 42 mm size to accomodate a 7mm optical sound track to existing 35mm film by the German Triergon company.
---
Neuf-cinq (nine-five)
After thirty years of experimentation with different widths in 1922 one was marketed which stood a better chance. In December 1922 Pathé introduced its home cinema, Le Cinéma chez soi, called the Pathé Baby.
Unspliced 9,5mm film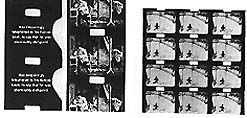 Between the perforations of 35mm film three rows of 9,5mm were slit (see image).
The projector came first. Its transportation mechanism was almost identical to the Lumière Cinématograph of 1895. The apparatus projected a steady image of amazing clarity considering the lamp of 6 Watt. Cassettes with lengths of 9 or 15 meter 9,5mm film could be bought or rented from depots. These films stood out by their great definition. They were reduced from Pathé's considerable 35mm archive. Subjects included newsreels, documentaries, comedies and feature films. Some were colored by a stencil imprint method. An ingenuous system was used to prolong the projection time. By means of notches in the film a mechanism was set into motion in the projector by which certain images - titles or close-ups - could be frozen for a few seconds.
Pathé Baby set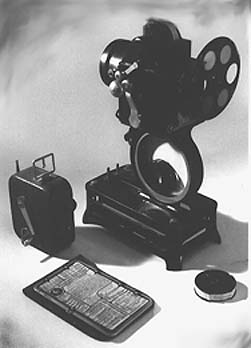 In 1923 a camera with hand crank was marketed. It being small in size, handy and economical, made it popular in a short time. It was for the first time that amateur film gained a wider acceptance. It is estimated that some 300.000 projectors were sold. What happened to all of them is another matter. They are not that often being offered for sale nowadays.
As a result of later developments the size never became popular in the U.S.A. In Europe it was. Even in Japan imitations of 9,5mm movie cameras and projectors were manufactured before the war (Cine Rola). In 1938 9,5mm sound film was introduced with the Pathé Vox sound-projector.
It may come as a surprise to some but 9,5 mm still has a following. Cameras and projectors are still manufactured, or more precisely, modern equipment is being converted to this size. Films are still re-perforated by some firms and developing facilities are available, given enough patience.
Internationally 9,5mm fans form a closely knit community holding yearly global gatherings. The best nine-five films of that year are projected then.
---
Sixteen millimeter
Kodak could not lag behind Pathé. John Capstaff of the Kodak laboratories had already been experimenting with another size. They had come to the conclusion that 10mm was the minimum image width for acceptable quality. Perforations on both sides would occupy another 6mm, making a total of 16mm. This gauge had the additional advantage that flammable 35mm stock could not not be slit in half for amateur use.
In 1923 16mm was introduced. In the battle for the amateur market Pathé boasted that its size was cheaper because of its economical use of the film width. Its prices suited all(?) purses. In their sales' slogans Pathé boasted that 9,5mm had almost the same frame size of 16mm at the price of 8mm.
Kodak opposed that middle perforations could cause stripes over the image. Moreover if the projector claw failed to hit the perforation accurately the images could easily be damaged.
The grain quality of 16mm was better. Kodak introduced with 16mm a reversal developing process with variable second exposure. It did away with the procedure followed so far to have negative film copied onto positive stock. As a result the costs were reduced to only 1/6 of the negative/positive process.
In later years a sound track was added on one side of the film, sacrificing one row of perforations. It was accepted as an SMPE standard in 1932.
---
17,5 mm
Split 35mm had always been popular as an alternative gauge. The American Sinemat camera/projector used it with perforations on one side in 1915.
Movette 17,5 mm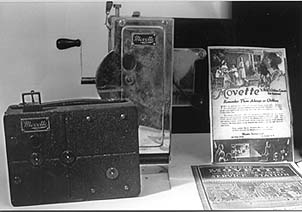 Two years later the Movette camera and projector appeared for non-flammable 17,5mm stock. It had round perforations on each side.
Movette film

In the twenties Pathé, when considering a new size of film for projectors used for shows in places in the country where no cinema was operating, also opted for 17,5mm. An optimum use of the film width was obtained by expanding the image and reducing the size of the perforations on both sides.
Rural 17,5 mm

The Pathé Rural was obtainable from 1926. Pathescope, Great Britain, followed with the Pathé Rex projector only in 1932. At the same time a film library was made available with well-known films of that era. In 1932 sound film was introduced - the sound track replacing one row of perforations as in 16mm. Although 17,5mm en joyed some popularity before the war - it was used in 4823 cinema's in France - it disappeared in Great Britain in 1939. In France in the first war years as the German occupation power did not permit off-gauge films be shown for censorship reasons.
---
8mm bootlace
Kemco camera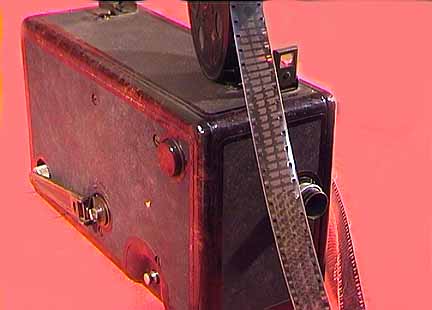 In 1930 Kodel pioneered in the United States with the idea to reduce film costs drastically by a yet more economical use of the 16mm width. With an ingenuous mechanism they succeeded in inserting 4 images on the surface of one 16mm frame. Besides the Kemco Home Movie camera a dual size projector was introduced for 16mm and 1/4x16mm.

The death blow was given to this attempt when Kodak introduced 8mm film in 1932. 16 Mm was given twice the number of perforations. First one half of the film was exposed. Thereafter the reel was turned and the other half was shot. After processing the film was slit in the middle and the two 8mm halfs spliced together. In this manner as many frames were available on the 25ft small reel as on 100 ft 16mm film.

Because changing reels in the middle proved to be cumbersome a number of manufacturers introduced straight 8mm wound on 50 ft reels (Univex, Bell & Howell), or in cassettes (Agfa). Because of the lack of uniformity resulting in limited availability straight 8mm did not catch on.
---
New sizes in the fifties
In spite of its advantages nine-five lost field. Kodak had acquired a main share in Pathé in the late twenties. It had no interest in pushing that size actively. The supremacy of 8 and 16mm lasted for a considerable number of years. Yet there were attempts to introduce for the amateur economic widescreen sizes.
In fact in the first year of WW2 in the German magazine 'Film für Alle' J.Pauli of Berlin proposed using first one half of the 16mm size, turn the film around and then expose the second half. It involved holding the camera vertically and the use of a mask. The projector would need a prism to project a horizontal wide-screen image. Once one half of the film was projected it needed to be turned over in order to project the opposite half. How a film was to be edited without interfering with the opposite frames was not gone into wisely.
Pathé widescreen
4 3/4mm film

Pathé made a more serious attempt to hook on to the popularity of widescreen in the fifties by introducing a duplex and monoplex format in 1955. 9,5mm was double perforated and split in the middle to a 4 3/4mm size which was to be projected horizontally in widescreen. It was an ill-conceived idea. The public showed no interest at all. Few cameras and projectors were sold. The venture was abandoned soon and forgotten in no time. Available stock was converted to the classic 9,5mm size.
The 4 3/4 mm Lido/Orly Duplex cameras and the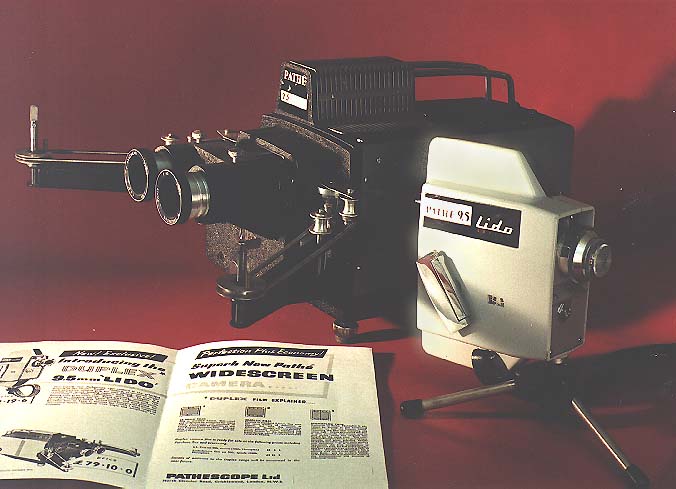 Monaco Duplex projector have become rare collectors' items.
---
Super/single 8 and super 16
Eight millimetre also underwent a transformation in 1965. The frame image was enlarged by 50% by using smaller vertical perforations. The so called super 8 film was supplied in 50' 8mm cassettes (having a striking resemblance to Meopta cassettes introduced years before). As from 1973 with magnetic sound stripe. Fuji attempted to introduce a far better conceived single 8 mm system but could not compete with Kodak.
Double super 8mm film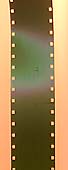 For semi-professional use double super 8 was supplied in the manner of standard 8mm on 16mm 100 ft. reels. It gave far better results because the film passed through the precision film gate of the camera instead of that of the magazine. In addition to the larger frame size and the improved emulsion super 8 compared well with 16mm of the fifties. No wonder that 16mm was hardly used anymore by amateurs.
Super 16mm

The 16mm used by professionals was given a boost by the introduction of super 16 mm in 1971. The 16mm image was enlarged by using also the space normally taken up by the sound track. This film size is excellently suitable to be blown up to 35mm. Because of its widescreen dimensions it lends itself perfectly for modern televion systems, like Pal Plus. There are suggestions to enlarge the image size even further by introducing vertical perforations similar to those used in super 8mm. A Super-16 format was developed subsequently by Swedish cinematographer Rune Ericson.

---
Widescreen
As stated before widescreen became popular in the fifties. However, it was proceeded by various attempts in the past, even in the nineteenth century as we have seen before, followed by:
1900 - 75mm Wide Film of Lumière
1900 - 70mm Cinéorama of Raoul Grimoin-Sanson
1914 - 70mm Panoramica (of Filoteo Alberini)
1926 - 63,5mm Natural Vision, R.K.O.
1929 - 70mm Grandeur of Twentieth Century Fox
1930 - 56mm Magnafilm Paramount
1930 - 70mm Realife, M.G.M.
1930 - 65mm Vitascope Warner Bros.
All these ventures did not last for much longer than a year. In the fifties another series of attempts were made to introduce large film sizes for widescreen. To name a few:
Frame of 'Oklahoma' in Todd-AO - 65mm wide negative printed onto 70mm color positive.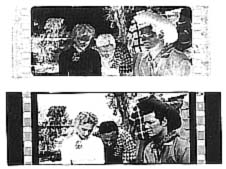 70 mm film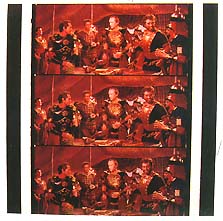 In the seventies followed IMAX (1970), OMNIMAX (1973), Cinema 180 and others with horizontal position of frames on 65mm negative film. Special theatres were built to accomodate the projectors and ultra wide screen. Specially built projectors were needed because the film could not be pulled through anymore by claw. In the Imax system it is transported by a wave motion. Thanks to the air pressure gate precision, projection on a 180º 100 ft. width screen has become possible.
---
From the foregoing it is clear that standardization was dictated by the economical power of one or more manufacturers. One result was the universal acceptance and growth of the medium for amusement, information and in some cases as an art form.
Collecting off-gauge movie equipment and films
For the collector hard to find off-gauge equipment/films are a true hunting-ground. In particular the sizes that were never heard of anymore. One may still profit from the relatively low prices as compared with photographica. 8, 16 and 35mm equipment/films are often offered for sale, but it becomes more difficult with 9,5, 17,5, 22, 28mm and all the other sizes mentioned.
From 3 to 75mm
One hundred years of cinema has yielded almost one hundred film gauges from 3mm to 75mm. The smallest of 3mm was developed in 1960 by Eric Berndt for NASA to be used in space flights. It had a centre frameline perforation. The largest was employed by Lumière in 1900 for large screen presentations at the Paris Exposition.
Most of these film sizes have been relegated to oblivion, much to the detriment of its inventors/manufacturers. Each size has its own history.
Certainly I have not mentioned all of them. Here are some more sizes:

26mm paper film used in the Refcy Japanese paperfilm camera around 1930
38mm (Casimir Sivan, Switzerland).
11,5 mm (regular 8mm+ 3,5mm for sound track) optical sound film used in a Kenner's Real Sound toy projector around 1965
16mm Harper Film system, patented in 1938. 'Edge perforations were no longer used. 3mm each side of the film were reserved for sound tracks leaving 10mm in the centre for the width of the 16mm picture frame. [Originally with two perforations per frame], at a later stage this format was modified slightly to accommodate a third centrally placed sprocket hole, apparently to ease the strain on the film now traveling at the higher speed of 18" per second.'

GanGuang FL8,75 mm projector

8,75mm film used in the seventies in The People's Republic of China for educational, propagandistic and other purposes. Chinese 35mm film stock was being slit into four strips of 8,75mm film and sound striped afterwards. Projectors for this size were also being manufactured there by a number of companies.
Super duper 8mm. This new wide-screen 8mm film format had its international debut in December 2003. Sleep Always, the first feature film shot in the new "super-duper 8", screened in Spain at the Sitges International Film Festival of Catalonia and in New York as part of the International Festival of Cinema and Technology. Super-duper 8 utilizes traditional super 8 film but uses also the area normally reserved for the sound stripe (as with super 16). When transferred to videotape super-duper 8 utilizes 30% more image area in every frame.
Super 9,5mm. Actually 11.6mm obtained by slitting 35mm film stock in three strips. Prototypes were made by amongst others by Elmo and Beaulieu in the nineties. But the project was abandoned for lack of venture capital.
For further info on the apparatus mentioned see my List and Links below. Consult also my Collecting vintage cinematographica page.
LITERATURE:
Acres, A.B. : Frontiersman to Film-maker (2001, MS as yet unpublished)
Ceram, C.W.: Archeologie du Cinema (1966)
Collins, Douglas: The story of Kodak (1990)
Crawford, Merritt: The first thirty years (Movie Makers December 1930)
Dery, Michel: Le format idéal (article)
Jenkins, R.V.: Technology and the American Photographic Industry 1839 to 1925
Kattelle, Alan: Home Movies (2000)
Kennedy, Donald D.: The Film Industry in the People's Republic of China (SMPTE Journal vol.85 Nov '76)
Lieshout, Henry van: Cine film formats ("Sixteen Frames" Spring '90)
Limbacher, J.L.: Four aspects of the film (1968)
Matthews, G.E. and Tarkington, R.G.: Early history of Amateur Motion Picture Film (article March 1955 Journal SMPTE)
McKee, Gerald: Film Collecting (1978)
A Pot-pourri of film widths and sprocket holes,
Milestone Movie Cameras (Articles in American Cinematographer, Jan. 1969).
Rossell, Deac: Living Pictures. The origins of the movies (1998)
Theisen, Earl: The history of nitrocellulose as a film base. (Article March 1933 Journal SMPTE vol 20)
Links:
© Michael Rogge 2022
---
This article was published originally in Dutch in the quarterly of the Fotografica Society, Netherlands, in 1996 and updated later on.(click)
Foreign translatians:
---

---
On the web since 6 December 1996. Latest update: December 2022
Return to index-page
| top of this page |
| Frequently Asked Questions|
| main cinematographica page |
| links |
| Images of my collection |
| List of 3500 vintage movie apparatus |
| service addresses |
| want list |
| Who invented the cinema? |
| Michael Rogge's 1200 video clips at YouTube |
| Birt Acres. Film Pioneer |
| art |
|Index to all pages on this site
| other interests |
| French, German, Italian pages |
| My 1200 video clips on YouTube |